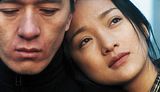 Forty-three-year-old actor Jia Hong Sheng had a blooming career back in the 80s as one of China's most well-known actors.
His meteoric fall from grace began when he fell into the drug trap and was the first Chinese celebrity to admit to taking drugs. He was admitted into a mental institute in 1995 and managed to kick the addiction afterwards.
In the subsequent years, Jia struggled in his career, with a few sporadic appearances in plays and movies. He was said to be thinking of making a comeback recently. But that ended when he jumped from a building on July 5.
Jia used to date acclaimed actress Zhou Xun briefly for a year. Back then Zhou Xun was still relatively unknown and Jia had tried to help her by bringing her to audition for a role in a major production. The pair split when Zhou Xun left him for someone else.
According to Jia's close friend, Zhou Xun has been crying over tragedy. The close friend also revealed that Jia did not display signs of depression and had even met up with him to discuss his comeback over a meal.
Zhou Xun did not respond to questions and her manager spoke to the media on her behalf.
"This is truly shocking and saddening news. I believe what Jia Hong Sheng needs now is peace so I hope everyone can respect him and his family."
Source: http://entertainment.xin.msn.com/en/celebrity/buzz/asia/article.aspx?cp-documentid=4206762