Stars of espionage thriller The Message Zhou Xun and Li Bingbing prove that besides their beauty, they have the acting abilities to boot
October 02, 2009

ZHOU XUN
She has received one of the highest compliments a director can shower on acast member.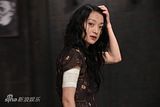 In a recent interview with Chinese news portal Sohu.com, Chen Kuo-fu, the director of espionage thriller The Message, told reporters: 'When it comes to acting, Zhou Xun is in a league of her own, she's an alien from another planet, simply incomparable to the other ordinary actors out there.'
Indeed, the 32-year-old Chinese actress has proven herself to be one flexible chameleon on the silver screen.
From a cabaret singer in the musical, Perhaps Love (2005), to a lovelorn girl pining for her prince in The Banquet (2006), to a fiery mob lady in arthouse action flick Ming Ming (2006), she has turned in natural, convincing performances.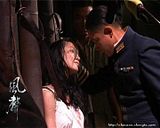 In The Message, set against the backdrop of a 1940s Japanese-controlled China, Zhou Xun plays a mailroom staff member of the Japanese-backed Anti-Communist Command.
She and her squad mates become the main targets of torture of the Japanese Imperial Army, when they are suspected of being moles for the Chinese resistance movement.
'The most difficult part about playing Gu Xiaomeng (her character) is the fact that she's terribly repressed,' said Zhou Xun, in an e-mail interview with The New Paper.
'She is very careful about revealing her true self and is always secretly making plans.
'I had to play her with subtlety and it was only towards the end that her emotions explode.'
Liking your character is the first step to portraying her well.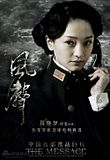 Zhou Xun loves the inner strength Gu Xiaomeng possesses, but admits that in real life, she is a different person altogether.
'Xiaomeng's thoughts and feelings are too complicated,' she said.
'Beneath her sunny exterior, there's an intricate maze in her heart. As for me, off screen, I'm actually simpler and definitely less rational than her.'
After filming The Message, Zhou Xun has come to admire the men and women who lived through the war.
'A few characters in the film never fail to put nation before self, they have no qualms giving up their lives for their country. It's an amazing act of selflessness.'
Prior to working on The Message, Zhou Xun was last seen as a kooky lab researcher in director Tsui Hark's comedy All About Women (2008).
Was the change from laugh-out-loud comedy to heavy, dramatic material too hard to handle?
'Both films were challenging. I had never done comedy before All About Women, so it wasn't easy at first. I had to learn how to laugh in different ways,' said the two-time Hong Kong Film Awards winner.
She bagged Best Actress for Perhaps Love in 2005, and Best Supporting Actress a year later for her role in The Banquet.
'There was a year's break in between the two movies, so coming onto the set of The Message, I had already adjusted my emotional state.'
The serious actress then brushed away the much talked-about scene in The Message, where she attempts to distract a security guard in her sexy nightwear.
'People bring that up because it grabs their attention, but I don't feel it's so important that I should keep talking about it,' she said.
'We shouldn't put our focus on that scene alone. The film is more than that.'
Source
: http://tnp.sg/show/story/0,4136,215671,00.html