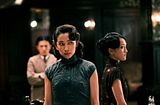 Perhaps the only thing that's not mysterious about spies is that they are becoming increasingly popular with China's film and TV viewers.
And the reason for that is, well, that spies are mysterious.
This autumn, The Message (Feng Sheng) will join the growing list of flicks about the shadowy lives of secret agents.
Set during China's War of Resistance Against Japanese Aggression (1937-45), it stars seven A-listers, including Zhou Xun and Li Bingbing. The movie will also feature Li's first nude scene.
Oscar-winning designer of Crouching Tiger, Hidden Dragon (Wohu Canglong) Tim Yip handmade the entire wardrobe. The set - two villas perched on a seaside cliff -features vintage furniture and ornaments collected from all over the country. The antique sofas, lights, tableware and LPs cost more than 4 million yuan ($580,000).
The storyline is loosely adapted from a novel by Mai Jia. Following the assassination of an official of the Japanese-controlled puppet government, the Japanese chief imprisons five suspects to flush out the planted agent.
One reason for spy thrillers' growing popularity is the strict set of restrictions the State Administration of Radio, Film and TV (SARFT) placed on the broadcasting time and content of crime TV series in 2004.
"Viewers aren't happy about the lack of crime shows, which are packed with drama and suspense, so some directors try spy stories," Jiang Wei, writer and director of smash spy TV series Lurk (Qian Fu), was quoted as saying.
And spy flicks are cheaper to make than war films or TV series but still captivate audiences because of their dramatic plots, says Tan Fei, entertainment industry veteran and culture critic.
In 2006, the TV adaptation of Mai's best-selling novel Plot Against (An Suan) became a small-screen darling. The actors who played main roles became celebrities overnight.
A flurry of similar shows followed, the most popular of which was Lurk, which started airing this year.
Viewers were hooked to its vivid depiction of a Communist spy infiltrating the Nationalist ranks in the 1940s. Some even came to take the plotline as a guidebook to office politics.
And Ang Lee's 2007 film Lust, Caution (Se Jie) about an ordinary girl who gets caught up in the cloak-and-dagger world made an even bigger stir. While much of the hullabaloo was about the steamy sex scene, the dramatic storyline also captivated viewers.
"People like spy thrillers because they have few opportunities to know much about spies' lives and work," Tan adds. "These shows satisfy their curiosity."
And curiosity is the driving force for The Message, which is co-directed by Chen Kuo-fu from Taiwan and Gao Qunshu from the mainland.
Chen, who also wrote the screenplay, is a dynamo when it comes to creating suspense.
His last directorial work, Double Vision (Shuang Tong), was one of the most successful thrillers in Taiwan. Gao, who rose to fame after a TV series about 13 murder cases, also has a knack for keeping audiences on the edges of their seats.
Production company Huayi Brothers has kept a tight lid on the ending. To make certain it stays secret until the Sept 30 premiere, all cast and crew members signed contracts with the firm that impose a 100,000-yuan fine on anyone who doesn't keep his lips sealed.
And the directors also produced seven versions, so viewers won't know which will end up in theaters.
But despite all the pre-release secrecy, Chen says he isn't worried the first batch of viewers will spoil it for the rest.
"Suspense is an important element for a spy thriller, but it isn't everything," Chen told China Daily. "Watching the film is a lot of fun. It's like, you open a pot and find out what the food is, but that won't spoil your appetite for it."
Unlike other mainland spy films or TV series, which focus more on the mind games the characters play with one another, the new film also depicts the torture the characters endure.
It is the first time so many kinds of torture devices have been shown in a Chinese film. Inspired by many grind tools used in Europe during World War II, the prop team created dazzling devices, such as a nail-studded chair, an electrifying bed and various needles.
And all of the main actors, including Zhang Hanyu, Li Bingbing and Zhou Xun, get tortured.
Filming the scene was so powerful an experience for Li that she now becomes anxious whenever she sees a certain type of ruler - used as a torture implement in the film - in real life. And she calls Chen "a horrible writer".
The other leading woman, Zhou, often sat alone on the set, spontaneously bursting into laughter or tears. Since the filming wrapped up, she has had to drink red wine every night before bed to sleep.
Chen says he has good reasons for including such vivid torture scenes.
While doing research for the screenplay, he watched a documentary about spies during the War of Resistance Against Japanese Aggression. One thing he found was that most spies rarely talk about their work, even after returning to civilian life.
"Just like magicians, they will not reveal their tricks," Chen says.
"I think the audience has the same curiosity about their work as I do. Their mysterious experiences give me a lot of space for imagination and creation."
Chen visited a real torture chamber before shooting started. He recalls feeling chills at the sight of the devices, even though he was clad in a down coat.
"I was thrilled by the cold feeling," he says.
"I think I would confess even before undergoing any torture. So I appreciate the characters' strength of will and want the audience to know what miserable ordeals they endured."
He insists the torture scenes are not for the sake of sensationalism, like those in films such as the Saw series.
"I hope the viewers will relate to the characters and feel sorry for them, and not just feel excited about the visual aspects," he says.
Source
:
China Daily [2009-09-18 16:00:59]