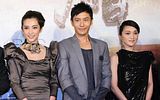 Cast members (from left to right) Li Bingbing, Huang Xiaoming and Zhou Xun promote the spy thriller "The Message" at the film's Beijing premiere on September 23, 2009. [Photo: yule.sohu.com]
The highly anticipated Chinese spy thriller "The Message" lived up to expectations Wednesday when lengthy applauses wrapped up its first public screening.
The film's Beijing premiere, held at a 1,000-seat hall at the Beijing Film Academy, attracted a jam-packed house. Lasting applause burst from the audience at the end of the screening, Sina.com.cn reports.
This was the first time the WWII suspense movie was screened in front of the public in full length.
Producer Wang Zhonglei excitedly told Sina at the premiere, "My goal throughout the production had been helping our cast and crew members win applause just like now."
"The Message", set in Japanese-occupied China in the 1940s, tells the story of a Japanese spy chief who, by using cruel interrogations, tries to identify a Chinese agent from a gathered group of suspects.
Li Bingbing and Zhou Xun, two of China's top actresses, are among the film's star-studded cast. They play two of the suspects, and both have said they suffered emotional ups and downs while portraying their characters. The actresses agreed "The Message" will become their new representative work.
Taiwan director Chen Kuo-Fu and Chinese mainland's Gao Qunshu co-directed the film, with Oscar-winning Timmy Yip designing the costumes.
The film will officially hit theaters on September 30. By then, it will join a long list of tribute films marking the 60th anniversary of the People's Republic of China.
Source
:
http://english.cri.cn
Credit: sunyu031215 @ zhouxun.tv
Re-up: Mylove @ zhouxun.chungta.com
Read more...