VietNamNet Bridge – Zhou Xun, an internationally-acclaimed Chinese actress and singer, suddenly appeared in Hanoi on July 26 afternoon to advertise for a big commercial brand.

Zhou Xun was one of the "Four Young Dan actresses" in China in the early 2000s, along with Zhang Ziyi, Xu Jinglei and Zhao Wei.

In the afternoon on July 26, the Chinese superstar paid a visit to the Hanoi Old Quarter and some other relics. Zhou Xun's visit to Hanoi was very secret and her activities in the city were monitored strictly by security.

This morning, July 27, Zhou Xun took photos at the Hanoi railway station on two carriages of the luxurious Victoria Express travel train, with a team of over 100 people.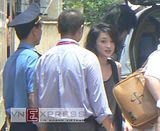 The Chinese movie star will stay in Hanoi until July 28 to feature in an advertising video clip shot at the Hanoi railway station, the Long Bien Bridge, the Metropole Hotel and the Hanoi Opera House.
Zhou Xun was born to a middle-class family. Her father was a local film projectionist and her mother a salesperson at a department store.
While she was in her teens and schooling, she was handpicked for a role in the movie Strange Tales Amongst Old and Desolate Tombs.
Zhou Xun caught international attention through her roles in Lou Ye's Suzhou River in 2000 (Best Actress, 15th Paris Film Festival) and Dai Sijie's film adaptation of the book of same name, Balzac and the Little Chinese Seamstress, in 2002.
In 2002, she starred in the television series remake of Jin Yong's martial arts novel The Legend of the Condor Heroes as "Huang Rong" with actor Li Yapeng as her male lead. The series was one of the most watched in mainland China in 2003.
Zhou Xun then successfully entered the Hong Kong film market in Peter Chan's musical film Perhaps Love in 2005. This role won her the "Best Actress" award in the Hong Kong Film Awards, Hong Kong Film Critic's Society Awards, Golden Bauhinia Awards, Golden Horse Awards, Beijing Student Film Festival and Hangzhou Student Film Festival.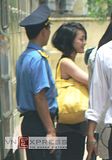 Aside from acting, she has also released two solo albums, Summer in 2003 and Come Across in 2005, in addition to singing for several motion picture soundtracks including Baober In Love, Xin Bian Guo Le Xi San Meng You Xian Jing, and Perhaps Love.
After Perhaps Love, her next martial arts project was Feng Xiaogang's The Banquet, in which she played a supporting role. Her singing was also featured in the movie and on the soundtrack.
Zhou's next effort was Susie Au's 2007 film Ming Ming, in which she played the title character who is in love with "D" and "Na Na", who has also fallen in love with D. The film won high praise at the 2006 Pusan International Film Festival held in South Korea. On the day of the film release, she also released her new music video, the song of which is the theme song of her film Ming Ming.
Zhou Xun also played in the Beijing Film Academy professor Cao Baoping directed romantic thriller, The Equation of Love and Death, in which she plays the role of a taxicab driver on the lookout for her missing boyfriend. She also plays the lead in Painted Skin, a remake of a classical supernatural thriller of the same name.

VietNamNet/VNE