In the run up to the World Expo 2010, film star Zhou Xun is sending out a strong message; Save the money from a cup of coffee, and spend it planting a tree to offset your carbon footprint.

The country's sweetheart is now leading the way to a green fashion by purchasing 238 trees to offset the 19.5 tons of carbon dioxide (CO2) emissions generated by her air travel in 2008.

"The trees are planted in the Inner Mongolia autonomous region, and I wish I could go there sometime and see them," said Zhou, who was appointed Chinese Goodwill Ambassador for the United Nations Development Program last year.

"It is not that expensive," Zhou said. "Only about 20 to 30 yuan per tree. That's about a cup of coffee or a bowl of noodles."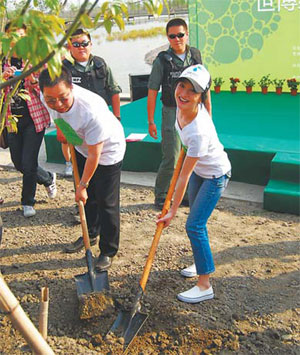 Film star Zhou Xun (right) plants trees in Shanghai on May 5. File photo

Zhou was actively involved in what might have been the largest green campaign in the run up to the Beijing Olympic Games. Then, she encouraged people to use public transportation and improve Beijing's air quality.

Now, she is bringing the idea of green commuting to Shanghai, which is poised to host a low-carbon World Expo.

Green commuting promotes eco-friendly ways of traveling. The concept was introduced to China more than three years ago, by the Environmental Defense Fund (EDF), a US-based not-for-profit organization, and China Association for NGO Cooperation (CANGO).

With 2.4 million cars, traffic congestion has become a big headache in Shanghai in the recent years, with vehicles contributing to 80 percent of air pollution in Shanghai, causing health hazards like high blood lead levels among children and increased incidences of lung cancer among adults.

But Shanghai will not adopt car-control measures that were in force in Beijing during the Olympics, according to Shanghai World Expo Coordination Bureau chief Hong Hao.

This is because Shanghai has fewer motor vehicles than Beijing. The local media reports that Shanghai had 720,000 private cars at the end of 2008, compared to 2.48 million private cars in Beijing.

Without a mandatory car restriction, encouraging voluntary green commuting is becoming even more important.

Zhang Quan, director of Shanghai's environmental protection bureau said that promoting green commuting is in line with Shanghai's goal to host a low-carbon World Expo, as well as constructing an ecologically sound city.

The city has gone one step forward and will introduce an online calculator by July 2009, for citizens to calculate their carbon footprints. The calculator is co-designed by Tongji University and EDF.

"Linking voluntary activities with quantified emission reduction is likely to get more citizens to join the efforts," said Zhang Quan.

Meanwhile, Zhang Jianyu, head of EDF's China program said the company will work closely with local car owner communities and enterprises to encourage more people to use public transportation in the run up to the World Expo.

EDF is also calling upon exhibitors and visitors attending the Shanghai Expo event to travel with greener transportation, such as rail.

"The CO2 generated by their traveling will contribute to the total carbon emission during the Expo, so their choices are crucial for the success of a low-carbon Expo," said Zhang Jianyu.

If traveling by air is inevitable, Zhang recommends following Zhou Xun's carbon offset practices.

Travelers can contribute to the Green Commuting Fund under CANGO, launched with 120,000 yuan from auctioning the 8,895 tons carbon credits earned during the Beijing Olympics, to build a "carbon sink" wood in Shanghai, Zhang said.

With Zhou Xun promising to be carbon neutral, the problem now is, will the World Expo 2010 in Shanghai be carbon neutral? Let's wait and see.

(China Daily 05/11/2009 page3)
http://www.chinadaily.com.cn/bw/2009-05/11/content_7761529.htm