(China Daily)
Updated: 2009-01-21 11:14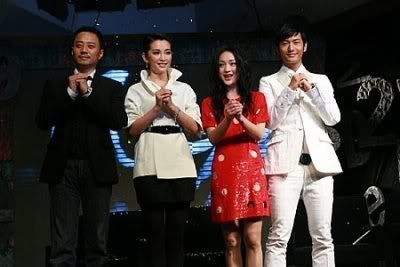 Award-winning actress Zhou Xun (pictured right) is to play a spy in Sound of the Wind (Feng Sheng), which will start shooting after the Chinese New Year holidays.

Set in 1942, three years before the end of the War of Resistance against Japanese Aggression, the film revolves around a group of undercover communists in the Japanese army's intelligence agency.

The film is loosely based on the novel of the same name.

Mainland actor Zhang Hanyu, named best actor at the 2009 Golden Horse awards, will co-star with Zhou and Li Bingbing (pictured left).

It will be the first time Zhou and Li, two of China's most sought-after actresses, have appeared together since collaborating in the 1999 TV series Daming Palace.

The film is co-directed by Taiwan director and producer Chen Kuo-fu (Double Vision, Assembly) and mainland director Gao Qunshu (The Tokyo Trial).