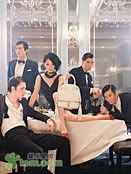 Have you ever thought of the similarity between French actress Isabelle Adjani and Chinese actress Zhou Xun?

Both are intelligent and dedicated actresses admired and scrutinized by their countrymen. Adjani won four Cesar Awards between 1981 and 1994 while Zhou has so far swept all of China's film awards including the Hundred Flowers Awards known as China's Academy Awards, the Hong Kong Film Awards and the Taiwan Golden Horse Film Awards.

Both are small and delicate beauties with large and deep eyes, dark hair and porcelain skin. Their fragile looks suit them for roles as emotionally or physically exploited women. Intensity, the fierce wounded stare of a woman at once independent and painfully vulnerable, is the essence of their screen persona - and, on all the evidence, of themselves.

And last but not the least, they change lovers frequently.

For all the above, don't you think they really have much in common? And now somebody has discovered it and connected them together with a bag.

The man is Marc Lelandais, CEO of the 130-year-old French bag brand Lancel. After choosing Adjani as the muse for the brand, he announced Zhou as the ambassador of Lancel in China on Thursday.

"The choice of the Chinese ambassador of Lancel is the result of the cross-cultural communication between the East and West. The message we want to express through Zhou is that the French Legerete is not only for Parisian women but can also be found on Chinese ladies," says Lelandais. "Legerete" is close in meaning to the English word legerity, sometimes used to denote gracefulness.

"We selected Zhou from many nominees. I have watched many movies featuring Zhou. She can be sweet, charming, natural, straight, sexy and multi-faced. All these characteristics are what Lancel women have. We believe Zhou perfectly embodies Lancel just as Adjani does."

Zhou enjoys the collaboration with the French label for which she has toured Paris and Shanghai for many photo shoots. She has posed at the Champs-Elysees, cafes in Paris and bars in Shanghai.

"Every label has its unique characteristics. Whenever a brand approaches me to be its spokesperson, I try to know all about it and ask myself if it fits me," says the actress.

"In my trips to Paris and Shanghai for photo shoots, I sensed a certain chemistry between Lancel and me. We did many innovative shoots and it was a really fascinating collaboration. Every photo tells a story, like a movie," says the actress whose three movies In The Equation of Love and Death (Li Mi de Caixiang), The Painted Skin (Hua Pi) and Not All Women are Bad (Nuren Buhuai) are set to dominate China's cinema screens in the autumn and winter.

(Source: China Daily 10/11/2008 page6)
Read more...