By Liu Wei (China Daily)
Updated: 2008-09-10 07:48

Actress Zhou Xun is set to dominate city cinema screens in the days to come and will show the many facets of love through three vastly different roles.

In The Equation of Love and Death (Li Mi de Caixiang), which opens on Sept 19, she plays a taxi driver who spends four years searching for her missing boyfriend; in The Painted Skin (Hua Pi) which kicks off later this month, she plays a pretty ghost who thinks she can control love; and in the romantic comedy Not All Women are Bad (Nuren Buhuai) which opens in December, she plays Fanfan, a girl exploring a "love elixir" to find Mr Right.

So, what is love? The roles Zhou plays provide the answers.

Li Mi's life revolves around the search for her missing boyfriend and she drives through Yunnan's zig-zag mountain roads, showing her boyfriend's photo to every passer-by, in a desperate bid for some clue.

The character reflects Zhou's own search for love. Director Li Shaohong, who has teamed up with her in many projects, says Zhou is someone who has been molded by her relationships and acting experience.

When in her early 20s, Zhou left her hometown in Zhejiang province to follow her boyfriend, then a rock singer, to Beijing.

She made a living by singing at small bars, earning about 150 yuan ($22) every night before Chen Kaige picked her up for some minor roles in his projects. But Zhou does not see herself as a beipiao, or someone who leaves his or her hometown for Beijing with dreams of stardom.

"They come to Beijing for a career break, I came for love," she says. "That's totally different."

Her devotion to the person she loves matches that of the character she plays. Her relationships, unlike most stars, are never low-key. Every time she falls in love, she makes her boyfriend known to the media and her fans.

"Li Mi's passion for love is similar to mine," she says. "I have that part too - sometimes it is hidden somewhere inside my heart, sometimes it jumps out I am happy I still have that part. By sharing my experience, I can help more people believe in love. Even if only one or two couples are moved by us, it would be a good thing."

But her wide publicity of her relationships has caused her deep hurt. While she was still with her last boyfriend, actor Li Yapeng, now husband of diva Faye Wong, she told the media that he satisfied all her fantasies about men.

They soon broke up.

Zhou was plunged into a depression for nearly two years. She seldom laughed or even talked during that period, but never spoke harshly about Li or the relationship. When she met her current boyfriend, Taiwan stylist Li Da-chih, she was once again her sweet and chirpy self. She even named one of her songs in her last album, Da-chih.

Tolerance in love is something she shares with the character Xiaowei, in the action thriller The Painted Skin.

Xiaowei is a jealous and mean vampire who falls in love with a human being. She finally realizes love is more about tolerance than control, after seeing the relationship the man shares with his wife.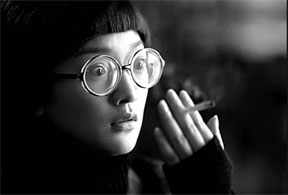 "Xiaowei's story is about one's understanding of love," says Zhou. "She finally learns that to love is to give in, despite the price you pay. If I was full of rage over my last break-up, I would not have met my current boyfriend."

Talking about her role in Not All Women are Bad, she says she yearns for love just as Fanfan does, but would never try to find a "love elixir," because love is not a puzzle to solve. One must let a relationship go its own course, she says.

"I am eager to love all the time," she says. "I hope I can still exchange a loving look with my husband when we are very old. But I will not manipulate love. My father always told me to let things be, and this is the motto of my life."

Source: http://www.chinadaily.com.cn/cndy/2008-09/10/content_7013050.htm