"Today is Dragon Boat Festival, my mother made 100 dumplings, let me take to you" Zhou Xun said in the visit to Chengdu, capital of Sichuan on June 08.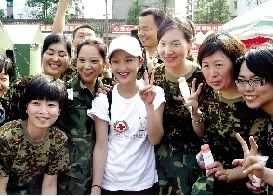 Yesterday (aka June 08 2008), Zhou Xun went to Sichuan from Beijing by plane. Did know her schedule, many reporters had waited for her at the airport. Wearing glasses, didn't made up, Zhou Xun looked like a normal passenger. Around her there were not any bodyguard as well as fans. She politely said to reporters: "it is unfair to you, but this time I really don't want to trouble more people. So no interview please".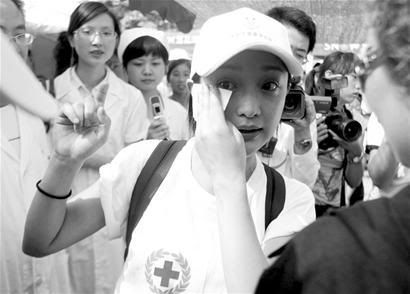 The first Jue's destination in Sichuan was a hospital in Shenfang where mothers and their babies received care. Because this hospital was made by awning, the temperature was over 30 degrees Celsius at 2 p.m although many fans were used. Zhou Xun went to ask a mother lying there: "you feel very not now?". The mother saw Xun's excitement, just shook her head. She also visited babies and wished them gain weight quickly. Seeing their lovely faces, she couldn't stop her tears.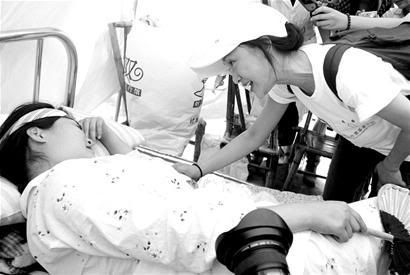 After that, at 5.30 p.m, Zhou Zun came to see a school of 130 students in Shenfang. A staff of the volunteer team carried many gifts, biscuits, basketballs, books and Zhou Xun carried a big bag of clothes. All were for children here. In the classroom in awning, she said: "I know today is Dragon Boat Festival, my mother made 100 dumplings, let me take to you, hopefully, your festival has a lot of joy". She gave these dumplings to children. Some of them were shy, then she chatted with them, even helped them peel dumplings carefully. When hearing them sang "Hearts feel to be grateful", she shed her tears.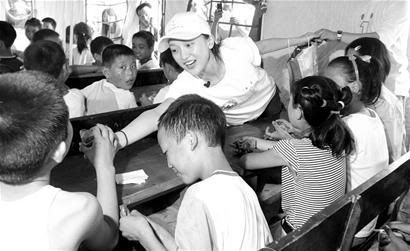 Date: June 09 2008
Source (in Chinese): zhouxun.tv
E-trans: Mylove @ zhouxun.chungta.com