Jue sent a letter to everybody on her birthday. Please enjoy it!

HOPE

Every year on this day (October 18th) I always enjoy the most surprise things, can receive many gifts from close friends and fans whom always support to me. I also saw the e-magazine made by Sanyan on the occasion of my birthday. Form the bottom of my heart, many thanks to friends in Sanyan. You must have spent a lot of time to make such warm and touching work. My parent and I together saw it. I believe that they were as moved as me.

I have just finished "Li Mi's Encounters". The final day was so that I couldn't sleep. Two months in Yunan is the period of time I faced with the biggest challenges. I would like to say "thank you" to the team. Hopefully, next year when enjoying the movie, they all have the same feeling of arrogant. From now on, whenever anyone mentions Yunan or Kunming, I have mixed emotions. Returning to Beijing, my mind was empty. I really need time to adapt to the change although there are full of works, many problems occur, time for relaxing is too little. Thus, the encourages from you, especially on this day, are very important for me to get power for the next days.

Recently I wept because of my friend's saying:"our body, our mind, fresh air and clean water are all necessary for everybody". At the moment of hearing that, I couldn't control my mood. On going from Yunan to Beijing I used camera to take photo of blue sky and wrote down :"Hopefully, thing is rare and precious is not effected by all daily matters" Walking in the sun, watching green trees, no consideration about this winter, such life is wonderful but very difficult for me. Hope that I can change it, like DJ's lyric, we are destroying our environment, we consider ourselves as outsiders ...Many people in showbiz are aware of protecting environment, so I entrust me "Xun diao bo ke" to serialize this matter.

This year is the new beginning for me. I wish I will have more good opportunities and everyone's support.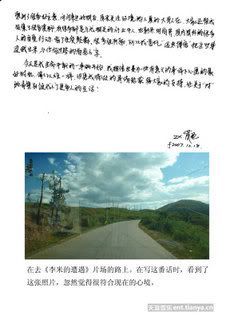 Zhou Xun
10/17/2007

Thank 雨停了in Sanyan