October 21st, in the evening, the atmosphere inside of the Shenzhen music hall was very noisy, different from the weather outside, it was cool and windy. That because nearly 400 famous people gathered at the Austria fashion feast "Audi Skynight"

In the 2-hour feast, all guests had opportunity to enjoy fashion show of Austrian designers' brand-new collections. At the end of ceremony, Zhou Xun was invited to proclaim and award to son Ning Yin who won the "skynight cup" due to her good performance.

Pls click here to see news of this on BTV-2: "Audi Skynight"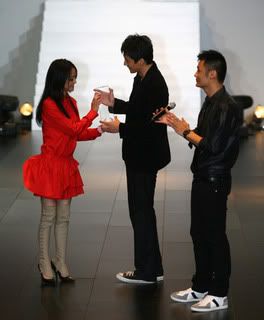 Source: fashion-stylenews.com