Sep 6th, Jue Zhou and Maggie Cheung,two actress generations,together appeared at the commercial activity of OLAY which was held in Beijing. It was reported both Jue and Maggie are representatives of Olay in China.

At that night, Jue attracted everyone with the unique white dress and no jewelry. Maggie looked elegant in black dress. Their contrast made many people felt pleasant.

Smile always on face, Jue happily answered all reporters' questions although many of them were related to her private love story with 37 year-old stylist, Li Da Qi. Her happiness showed that their love is more and more passionate.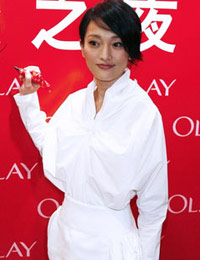 Source: ent.sina.com
yule.sohu.com