By RICHARD KUIPERS
A Fable Films (Hong Kong)/Concord Creation Intl. (China)/Guangdong Avlight Entertainment (China) presentation of a Handmade production. (International Sales: EMP Distribution, Hong Kong).
Produced by Philip Lee, Barbie Tung, Susie Au.
Executive producers: Cao Zhong, Au, Jacky Hu, Zhao Lin, Philip Lee, Zorro Xu.
Directed by Susie Au.
Screenplay: Au, Angela Lau, Louisa Wei.

With: Zhou Xun, Daniel Wu, Tony Yang, Jeff Chang.
(Cantonese dialogue)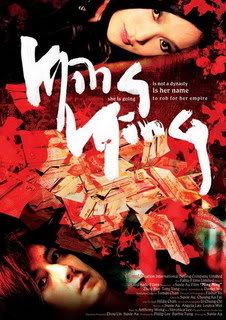 Edited like it's allergic to shots lasting longer than 10 seconds, Hong Kong-China genre hybrid "MingMing" ends up bursting its own bubble but not before having its way with auds who dig this sort of thing. Toplining Mainland star Zhou Xun in dual roles, hyperactive tale of a comic book-like female fighter aiming for romantic and financial jackpots in Shanghai has the firepower to make inroads in Asia, but faces an uphill battle in Western markets following its world preem in Pusan.
Susie Au, one of Hong Kong's leading musicvideo directors for more than a decade, packs in every trick of that particular trade, and then some, into her feature debut. Visual gimmicks like slow-motion, fast-forward, freeze frame and sundry bits of digital special effects are de rigueur from the moment pic's events kick off inside a nightclub-cum-fight arena.

Champion of the canvas is D (Daniel Wu), an enigmatic figure desired by every female but only available fulltime to the one who can produce $5 million and a promise to run away with him to Harbin. Destination in China, known as the "Ice City," holds the key to a secret sorrow from his past.

Likeliest contender to fill the role is foxy, black-clad adventuress Mingming (Zhou Xun), who has already enjoyed a roll in the hay with D and wants to make the arrangement permanent. Armed with the superhuman ability to flick tiny small metal balls at lightning speed, she decides money can buy her love and steals the cash from an effeminate crime bigwig named Brother Cat.

Following an arresting, "Matrix"-like moment at his headquarters, she makes a beeline for Shanghai, where it's presumed she'll meet her man for the hike to Harbin.

Maxed-out visuals are matched by plotting, which now finds Mingming's sidekick Tu (Tony Yang) hooking up with orange-haired Mingming lookalike Nana (also Zhou Xun), apparently another of D's girlfriends, on the boat to Shanghai. The appearance of a wooden box with a "Kiss Me Deadly"-like "do not open" aura further complicates matters.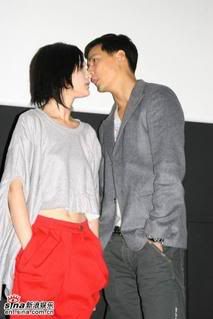 Zhou Xun and Daniel Wu


Logic and coherence may be in short supply, but auds demanding nonstop stimulation will get their fill as all roads lead to a snowbound finale, where most scores are settled and the secret of what's inside the box is revealed in all its dubious plausibility.

With Wu's screen time limited (he's given "special appearance" credit), Zhou has a thesping field day as cool operator Mingming and the emotionally brittle Nana. Zhou, who also played dual roles in Lou Ye's much quieter "Suzhou River" (2001), seizes both roles with gusto and emerges with reputation enhanced.

Fisher Yu lensed with high-end fashion-shoot gloss while tech contributers can all put their "Mingming" work on showreel highlights. Kudos are especially due production designer Thomas Chan, whose decors create a unified whole from the elements of comic book, sci-fi and film noir.

Camera (color/B&W), Fisher Yu
editors : Au, Cheung Ka-fai
music: Anthony Wong, Veronica Lee
production designer: Thomas Chan
action choreographer : Chung Chi.
Reviewed at Pusan Film Festival (Window On Asian Cinema), Oct. 13, 2006. Running time: 105 MIN.

Source : zhouxun.tv