Saturday September 16, 2006 Singapore | 22 septembre 2006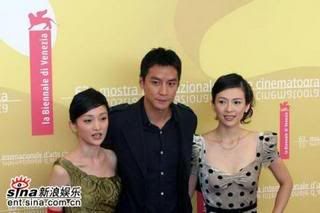 IF Zhang Ziyi is fire, Zhou Xun is, well, a block of wood.
That's if you ask their hunky co-star Daniel Wu, who gets caught between them in Chinese director Feng Xiaogang's tragic epic, The Banquet. But Daniel, who was in town yesterday to promote the film, was quick to explain himself. 'I don't mean wood in the usual way (read: nerdy), but in the sense that it looks simple,but actually contains lots of details.'
Unlike the vivacious Ziyi, who commands attention when she enters a room, the more subdued Zhou Xun would slip in quietly, he said in Mandarin.'You won't even notice she's there, but she would be there observing people,' he said at a media gathering at Oriental Hotel. He would know. This is the second time he's teaming up with Zhou Xun. They had previously acted together for the yet-to-be-released Hong Kong film Ming Ming. And he and Zhou Xun, both Libras, apparently clicked like two peas in a pod - or rather, an iPod.The San Francisco-born Daniel, 32, told The New Paper that they once looked at each other's iPods and found the contents uncannily similar. 'It's so weird, because she grew up in China and I, in America, but there were so many songs she had that I also had. We both like alternative music.'
During filming, Zhou Xun, 30, also made a huge sacrifice for Daniel. She plays a naive general's daughter betrothed to a brooding prince (Daniel) and she bares her back for a love scene in which the anguished prince pounces on her. The director had arranged for a body double for her, but Daniel said that he felt uncomfortable doing it with someone he didn't know. 'Zhou Xun saw how awkward I was after the first take, so she decided to do the scene herself.'
EXPRESSIVE
Unlike the introspective prince who suppresses his emotions, Daniel said he is an expressive person who has no problem displaying his emotions. For example, a few months ago, he and his Alive bandmate Terence Yin had a small fight on their blog over some video footage.
He also expresses his frustrations by doing a physical workout. Said Daniel, who has been trained in wushu since young: 'I usually rely on exercise... Punching a sandbag is a good way to vent.' But while he is vocal with his buddies, Daniel claims to be 'stupid' when it comes to affairs of the heart.
When asked if he had ever had two girls fighting over him - which happens in the movie - he laughed and said: 'If there is, I wouldn't know. I'm quite dense when it comes to
relationships. 'Even if a girl were to show her affections for me obviously, I wouldn't realise it. I find it hard to tell whether she wants to be my friend or lover and it'd be so awkward if I get it wrong!'
Daniel, who is reportedly dating Eurasian supermodel Lisa S, said that between two people, respect for each other is important. In the movie, his character's two lovers are both so besotted with him that they are willing to die for him. Ziyi plays his childhood sweetheart who marries his father and becomes the empress. So who does Daniel think is prettier, Ziyi or Zhou Xun?
His diplomatic reply? 'Both are pretty, but they have their own appeal. Ziyi sparkles, while Zhou Xun has more character and style.
The Banquet opens in theatres here today.
source: asianfanatics.net
Read more...