HONG KONG Zhang Ziyi wowed Western audiences with her feisty fighting moves in "Crouching Tiger, Hidden Dragon." Gong Li starred in "Memoirs of a Geisha" and seduced Colin Farrell in "Miami Heat."

Chinese actresses are making their mark on the world stage as Hollywood turns to Asia for fresh faces. The tide likely won't stop with Zhang and Gong.

Two more Chinese stars worth watching are Zhou Xun and Zhang Jingchu.


Zhou dominated the Hong Kong movie awards circuit this year on the strength of her performance in director Peter Chan's musical "Perhaps Love." Her portrayal of a movie star caught between past and present romances earned best actress honors from the Hong Kong Film Awards and the Hong Kong Film Critics Society.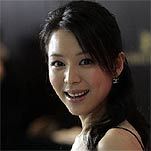 Zhang Jing Chu
Zhang Jingchu emerged after starring in "Peacock," which won a Silver Bear at the Berlin Film Festival in 2005. She followed up with a solid delivery in Tsui Hark's kung fu epic "Seven Swords."
Zhou, who studied dance, not acting, is known for her versatility and an instinctive approach to acting. A pair of soulful eyes, carrying a tinge of sadness, enhance the allure of the slender actress.
"She doesn't act with technique. She acts from the heart, so she can be very sincere. Many formally trained actors can complete their jobs perfunctorily, but their flaw is that they're not sincere," director Feng Xiaogang said.
If Zhou lacks academic training in drama, it doesn't show. In "Perhaps Love," she skillfully handles her character's transformation from a desperate, struggling dancer and aspiring actress to a cold, callous star. She's a playful cafe owner who consults an imaginary friend about her love life in "A West Lake Moment."
In "Hollywood Hong Kong," she brings to life a worldly prostitute who effortlessly manipulates and seduces those around her.
In person, Zhou is a quiet, soothing presence, speaking slowly in a deep voice.
By contrast, Zhang Jingchu is bubbly and bursting with energy, a quality even evident in her writing.
Describing her nerves while preparing to audition for "Peacock" in a diary entry posted on her blog, she wrote, "I'm nervous and emotional. It's like I've been cursed by 'Peacock' and can't go to sleep."
Later at the actual audition, the sharp-faced, big-eyed Zhang pans her own performance, telling herself, "Do you think you're making a commercial? Do you think you can always flash your signature smile?"
Zhang, who studied directing at the Central Academy of Drama, also Zhang Ziyi's alma mater, is more dynamic than Zhou, but her strong presence sometimes leads to overacting. Her portrayal of a shocked villager, waving a sword in the air aimlessly after surviving an attack, is over-the-top.
But her well-defined screen personality comes in handy in "Peacock," in which she plays a petulant, conniving homebound daughter who tries to chart her own course in life.
Zhou and Zhang Jingchu have different outlooks on possible careers in the West.
"Whether or not it's Hollywood, the most important thing is the quality of the script," Zhou said in an interview with The Associated Press. She said she has been approached by foreign film makers but the right role hasn't come along.
Zhang Jingchu, who's already drawn comparisons to Zhang Ziyi, appeared lukewarm about Hollywood.
She declined a request to be interviewed by the AP and said in brief written responses to questions, "I don't plan to go to the U.S. and I haven't signed with an American talent agency."
However, the actress also said in her blog she's studying English, and a Time Asia report in October said her English was fluent.
One obstacle to Zhou's and Zhang's possible crossover to Hollywood is the language barrier, although both Gong and Zhang Ziyi have proved Chinese actresses can gain sufficient mastery of English dialogue. Youth is also on their side — Zhou and Zhang Jingchu are in their 20s.
Zhou has expressed admiration for the achievements of other Chinese actresses in Hollywood.
"Actresses like Gong Li, (Zhang) Ziyi, Michelle Yeoh ... they're the pride of the Chinese," she told the AP.
Source:
http://www.iht.com