Sina.com.cn just released a new The Banquet trailer, with quite a lot of dialogues. Click here to watch online or download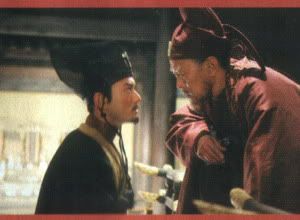 Trailer transcript:
00:47 The minister's son
: She wants to be the emperor... definitely... She said,... once she succeeded,... she would publicly announce His Majesty's crime of murdering his brother and seizing his throne.
01:01 The empress
: Are you still distrusting me?
01:17 The empress
: Your Majesty, please accept your wife's greeting.
01:22 The minister: Your Majesty (the previous emperor)! With your spirit in the heaven, have you seen, the dirty deal!
01:48 The empress
: Uncle really knows how to please a woman.
02:05 The empress
: Pei Hong dies because of me.
02:08 The emperor
: If you were having second thought, I could just pardon him right now.
The empress
: No!
Source
: http://sina.com & http://www.monkeypeaches.com/