The saturated awards season has begun with the coming of New Year. And famous online portal Sina.com has also joined in to award their best of the year.

Celebrities from media, business and, of course, the entertainment industry attended the grand ceremony held last night in Beijing.
Organized by Sina.com, the "Internet Grand Award" is closely related to the internet and the cyber media. Not only are the award winners largely decided by netizens' votes; but also many of the awards are internet exclusive.   

In "actress of year" award, there were 3 actresses nominated: Zhou Xun with Perhaps Love, Baober in Love .... ; Zhang Zi Yi with Jasmine Women; Li Bing Bing with The world without thieves .... And the winner was Zhou Xun - The actress of year - Award of famous entertaiment network Sina.com

Want to know more about others awards, please click here: Sina.com Awards 2005's Efforts

Zhou Xun was in the grand ceremony!

Video:
Part I
-
Part II
Images - Source from:
Sina.com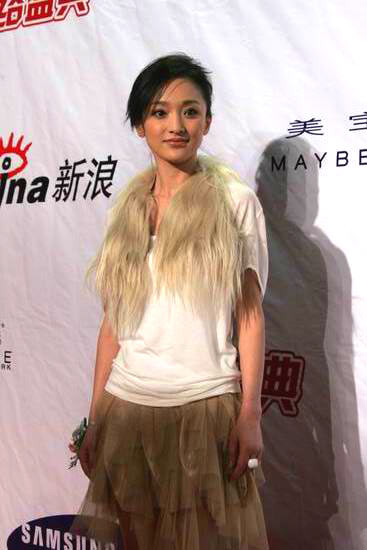 Another article in cctv.com !
Sina awards entertainers
01-16-2006 15:34
China's top website Sina has announced the awards for this year's most popular entertainers, with winners chosen via Internet polling. The star-studded gala was held on Tuesday at Beijing's Century Theater.
Pop idol Andy Lau was the biggest winner, snatching the ceremony's most coveted awards: "Best Male Singer" and "Best Actor". The prizes are a testimony to his popularity among internet users old and young.
Super Girls Li Yuchun and Zhang Liangying walked away with the Most Popular Newcomer honours.
Zhou Xun scooped "Best Actress Award" for her role in the New Year musical "Perhaps Love"
, while the "Best Female Singer" went to Hong Kong's Joey Yung.
A special award was unusually won by a fictitious character who goes by the name of "Cell Phone Xiao Qiang". Xiao Qiang often greets mobile phone users with funny words or songs, instead of the monotonous rings we generally expect to hear when making calls. Xiao Qiang is voiced by a team of people, many of whom are staff members working at the Internet Cell Phone Ring station.
This is the second year that Sina has presented awards to its favourite entertainers.