By Jeanine Tan . Posted: 06 December 2005

So young and so handsome, yet he cooped himself up in his hotel room like a recluse when he wasn't needed for the day's filming.That was how director Peter Chan described Takeshi Kaneshiro, the star of his new film Perhaps Love, during a press conference yesterday.

Chan, Kaneshiro and Chinese actress Zhou Xun were in town to promote the film, which opens here on Thursday. The way Chan talked about his leading man made Kaneshiro, 31, seem like a bit of a curious character.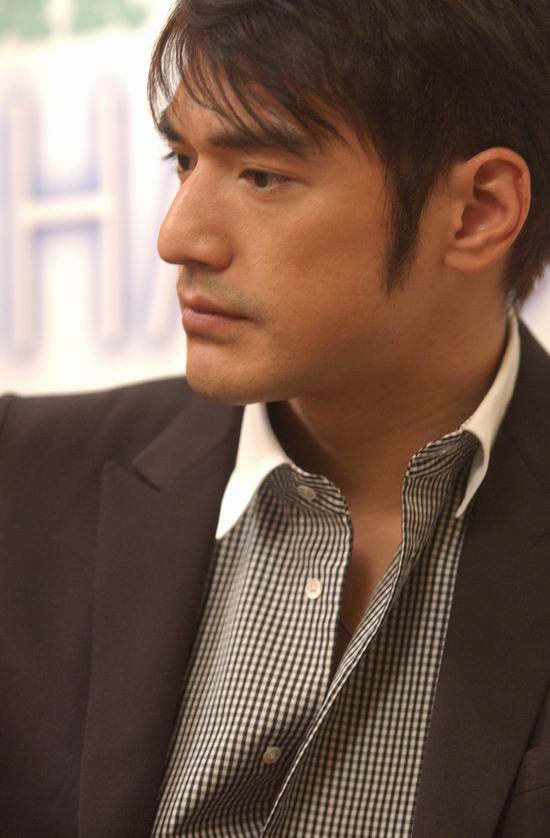 While he took his director's comments with good humour, his retort was half-hearted.

"It's because I make fewer appearances so people say I'm reclusive. I do go out when all of you are filming, only it's a little less often than everyone else," he said.

"When I'm in my room, I fill the bathtub with water and submerge myself to practise for the underwater scene in the film," he said with a laugh.

But the ribbing about the actor's supposed eccentricities did not stop there. Chan praised Kaneshiro, saying he was impressed with the actor's emotive portrayal of a heartbroken lover, but added with a laugh that he didn't think someone so handsome could have had his heart broken.

And it was here that Kaneshiro made this surprising proclamation: "It's no use being handsome."

For someone blessed with such flawless features to say something like that smacks of irony. But in the evolution of his decade-long career, which has included making movies in Hong Kong, Taiwan and Japan, Kaneshiro has steered clear of typecasting, even if he hasn't gone so far as to downplay his looks.

As a 15-year-old studying at the Taipei American School, Kaneshiro — the son of a Japanese businessman father and Taiwanese homemaker mother — launched his career as a slickly packaged teen idol.

He wasn't much of a singer, yet he released his fair share of albums. He wasn't a polished actor either, but he still managed to make a name for himself in Hong Kong films.

The toothy grin that characterised those early days of stardom is flashed less often now. He has since remade himself into a serious actor who seems to have eccentric taste in movie projects. These days, his image is more brooding than cute — and if media reports are to be believed, the man is occasionally more temperamental than congenial.

But in an interview after the press conference, Kaneshiro was, thankfully, in a good mood. While famously defensive about his personal life, he was fairly candid in his responses. When his overly protective publicists leapt into action whenever a personal question cropped up, he would wave them off.

"Appearances aren't important to me. Looks are a factor if you're a model, an actor or a singer, because you are presenting yourself to an audience. But in real life, the way you interact with people has little to do with how you look," he said.

"When it comes to work, your looks get you noticed but it's the other things that determine whether you progress beyond that stage."

Kaneshiro has certainly progressed far beyond the stage when he was known primarily as a pretty face, but he does not deny how he got his start.

"In the beginning, it was easy to be typecast as a pretty face. But even pretty faces have their role in a film and you do learn a lot even if you're only in a film as a pretty face."

"My looks came from my parents and I can only say I'm blessed. A lot of people look good and everyone has different tastes so there's no saying who is the most handsome."

He also spoke about his so-called mysterious nature. His singing career ended long ago and, in recent years, he has made an average of just one film a year.

As his official public appearances have become increasingly rare, one would think the paparazzi would try harder to dig up details about his personal life. But if they have tried, they haven't been too successful.

"I've stopped being in the limelight so much that people think I'm mysterious. I don't see the point in attending events. I've always been an introvert and I don't like to be in crowded places.

"Whenever I'm out in Taiwan or Hong Kong, people tend to be very friendly when they see me. This makes it awkward for my friends and family, so they would rather not go out with me."

Nonetheless, there were reports recently that Kaneshiro was spotted with another man on a hotel balcony at this year's Cannes Film Festival.

While he did not refer explicitly to that incident, he said: "People can say whatever they want, I'll only be unhappy for awhile. Then I'll think: They're really clever to be able to write something like that. It's not something that you can do anything about.

"Not being in the public eye actually helps my films a lot. The less news about your personal life there is out there, the more people are able to take you seriously in the roles you play."

It's hard to imagine a pretty face saying that. Those seem like the words of a serious actor.

"Of course, I've changed. No matter whether I work with a famous director or a little-known director, everything is an experience.

Even if you have the best director, cast and script, that doesn't mean the film will be the best film ever. Working with so many people over the years, I've l e a r n e d quite a lot."

TODAY
Copyright © 2005 MCN International Pte Ltd