CRI Exclusive by Shen Min - Chinese blockbuster "Perhaps Love" was named Best Foreign Film at the Queen Film Festival in New York last week beating out five other nominees.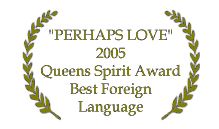 "Perhaps Love," by Hong Kong director Peter Chan, is also bidding for Best Foreign Film Award at the 78th Academy Awards.
The New York Queen Film Festival is known to Americans as a preview to the annual Academy Awards. The film is now taking road shows around the U.S. and its premiere in Los Angeles attracted about 200 Oscar judges.
The film will also hold a grand premiere in China on November 30th at the Beijing Exhibition Center. The cast and crew of the film is slated to attend the gala premiere, including leading actor Takeshi Kaneshiro, Zhou Xun, Hong Kong veteran Jackie Cheung and South Korean star Ji Jin-hee.