2005-09-27 - Director Peter Chan's musical movie "Perhaps Love" edged out Jackie Chan's "The Myth" and Stanley Kwan's "Everlasting Love" to become Hong Kong's official entry for the Oscar best foreign film award, an industry association announced Tuesday.


The movie was chosen in a vote by the 11 directors of the Federation of Motion Film Producers of Hong Kong.
"Perhaps Love" features an international cast and crew including Hong Kong pop star Jacky Cheung, South Korean actor Ji Jin-hee, Taiwanese-Japanese actor Takeshi Kaneshiro and Chinese actress Zhou Xun. It was shot by Oscar-winning cinematographer Peter Pau and choreographed by Bollywood's Farah Khan, informes the AP.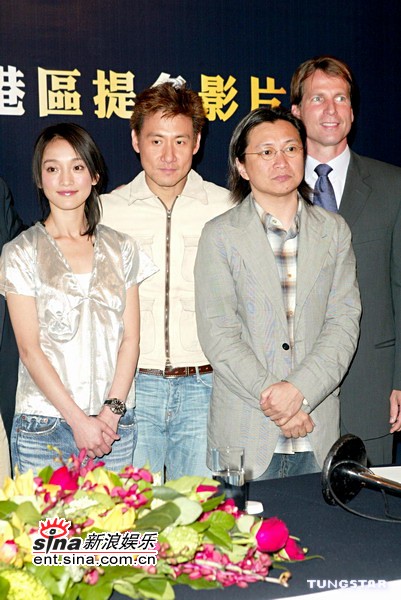 (From L to R) Zhou Xun, Jacky Cheung, director Peter Chan, unknwon
According to monkeypeaches.com , Chen Kaige's mega budget fantasy epic The Promise / Wu Ji, Peter Chan's musical Perhaps Love and Tsai Ming-Liang's erotic musical The Wayward Cloud will represent China (the mainland), Hong Kong and Taiwan to bid for the Best Foreign Language Film of the coming Academy Awards. The Promise / Wu Ji won the privilege by beating such films like the highly appraised Kekexili: Mountain Patrol, Cannes winner Shanghai Dreams, Silver Berlin Bear winner Peacock and Letters from an Unknown Woman. In Hong Kong, Perhaps Love is favored over Jackie Chan's latest action The Myth and Stanley Kwan's Everlasting Regret, and in Taiwan, The Wayward Cloud wins without competitors.
Zhou Xun and Takeshi Kaneshiro in "Perhaps Love"
source: http://newsfromrussia.com/culture/2005/09/27/63803.html .
Sina, sohu and monkeypeaches.com also announced this news