(eastday.com)
Updated: 2005-02-17 09:32

For both filmmakers and cinemagoers, love is an eternal topic and around Valentine's Day, the silver screen is packed with romantic movies - including "The Beauty Remains" and "Lover's Knot" - but among them, "West Lake Moment" is considered the best.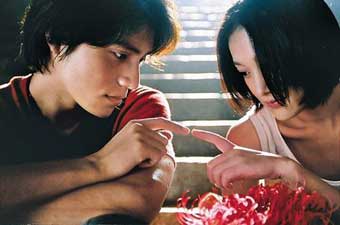 Talented Chinese actress Zhou Xun and actor Chen Kun play a young couple in the movie "West Lake Moment."
"There are two Zhou Xun (the well-known Chinese actress) movies being screened - 'West Lake Moment' with popular film and TV star Chen Kun and 'The Beauty Remains' with veteran actor Wang Zhiwen," says Gu Min, from Shanghai United Cinema Lines, the city's leading cinema chain. "But 'West Lake' is set in modern times. Elements of urban life can be seen in the movie rather than the nostalgic and sentimental mood that exists throughout 'The Beauty Remains' and 'Lover's Knot'."
Zhou looks incredibly cute, sweet and innocent. She enjoys a high reputation in China and this year she was even crowned as the "Screen Queen" of Valentine's Day.
Her movie "Baober in Love," released during last year's Valentine's Day season, was a big winner at the box office, with 15 million yuan (US$1.83 million) in ticket sales around the country. The movie's success alerted Chinese filmmakers to the considerable market potential for the right sort of movies at this romantic time of the year. Ironically, although "Baober in Love" was drawing crowds, the film was not all that popular with film buffs and critics. "The movie's eerie scenes, confusing storyline and strange music are too hard to understand," says Zhang Jian, a local movie fan. "Actually, on the romantic Valentine's Day, young moviegoers are not in the mood to explore profound and bewildering philosophy in a film."
However, "West Lake" is quite different. It looks like a typical just-for-lovers film filled with lighthearted romance, humorous lines, sparkling chemistry and silly-sweet comedy. "I like the warm ambience in the film," says actress Zhou, 29, with a grin. "But the story is more than just romance. It also tackles the subtle subject of the uncertainty of the relationships between today's young lovers. They may fall for each other at first sight but neither is sure whether their love will endure the test of time.
"The story is also about young persons growing up. Love is not always as sweet as it tastes at the beginning. Shouldering responsibilities and confronting yourself is essential in handling love affairs."
The Chinese name of the movie is "Yuanyang Hudie," which literally means "Mandarin Duck and Butterfly," the two symbols of "eternal love" in Chinese tradition. Hong Kong director Yim Ho works with his long-time partners, cinematographer Poon Hang-sang and production designer William Cheung Suk-ping, to present poetic and enchanting scenes in "West Lake."
"I spent about three months conceiving and writing the storyline," Yim says. "Most of the characters in the film are not totally imaginary. They have their roots and counterparts in real life."
One of the most honored Hong Kong directors, Yim has won many film awards in Hong Kong, Taiwan and around the world. He is well-known for his epic visual style, poetic aesthetics and transnational productions exploring the complexity of the human condition.
"Red Dust" ("Gun Gun Hongchen"), one of his classic works starring famous Taiwanese stars Brigitte Lin and Chin Han and Hong Kong actress Maggie Cheung, has created a record of winning eight honors at 1990 Taiwan Golden Horse Award (Taiwan's version of the Academy Awards), including Best Director, Best Leading Actress and Best Supporting Actress.
"But 'West Lake' is definitely a new challenge to me," Yim says. "After my achievement in the 1990s, it took me years to think and learn about how to tell a story that is of keen interest to today's young generation. Fortunately I found it."
In "West Lake," Xiao Yu (Zhou) runs a cafe near the picturesque West Lake in Hangzhou, capital of neighboring Zhejiang Province. Her tranquil life abruptly changes when Ah Qin (Chen), a boyish Beijing scriptwriter steps into the cafe. Love bursts into flame but how long can it last? In the movie, Xiao Yu and Ah Qin both have different personalities - one lives in the real world while the other refuses to grow up and take any responsibilities, just like the fairytale boy Peter Pan. "The two egos frequently talk, struggle and even fight with each other," Yim says. "For a young person, it's a painful course to grow up. My movies try to concentrate on the younger generation's mentality, their dilemmas, relationships and desires with the hope of offering healthy guidance."
When it comes to his future plans, Yim doesn't conceal his commercial goal. His next film has been adapted from a popular Internet novel and will depict a fantastic world of illusion traversing time and space.
"A perfect mode of my movies is to combine art with profit," Yim says. "I don't want to make hard-to-understand films, instead I try to entertain the biggest audience I can reach."
"West Lake" is also the fourth collaboration between Zhou and Chen after the hit TV series, "Symphony of Rain" and two movies "Balzac and the Little Chinese Seamstress" and "Baober in Love."
Chen, 29, who impresses viewers with his melancholy and handsome looks, is now one of the hottest young film stars in China. He was recently chosen by multi-faceted Chinese artist Chen Yifei to play the leading role in the film "Barber," which originally starred Jiang Wen. "I like to work with Zhou," Chen says. "She always pursues perfection. Ah Qin, the role I played in the film, is a typical young person in modern society who aspires for true love but doesn't have much sense of responsibility."
Zhou, who started her acting career about nine years ago, is best-known for her superb performances in Lou Ye's "Suzhou River," Wang Xiaoshuai's "Bicycle" and Fruit Chan's "Hollywood Hong Kong." Unlike her role in "West Lake," Zhou plays a delicate and reserved girl in another Valentine's Day movie, "The Beauty Remains," a feminist-themed work directed by well-known Chinese-American director Ann Hu.
"Distinctive styles they may have, there're still some similarities between 'The Beauty Remains' and 'West Lake'," Zhou says. "A woman can only achieve a mature and mellow state after enduring difficulties and life's downturns. Both movies will help people learn how to love and become more mature in their outlook."
"West Lake Moment," "The Beauty Remains" and "Lover's Knot," are being screened with English subtitles at cinemas throughout the city.